M R Business Advisers provide a wide range of business services to help our clients to improve their business performance. The services may range from assisting our clients to establish new businesses, identifying critical success factors and developing the means of measuring those against actual performance (Management Planning & Control). Such services may include:
Budgeting
Forecasting
Cash Flow Management
Profit Planning
Ratio Comparisons
Regular Financial Reporting
While performing the tasks required, our philosophy is to educate our clients at the same time. We believe that better educated clients are stronger business performers.
Accountants are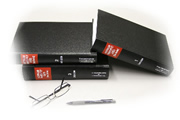 traditionally seen by their clients as their "Tax Agents" and little more.
These days, where there is so much pressure on directors and owners of businesses to perform better, to survive or perish, accountants need to do that much more. We need to be there to show you how your business can be so much more, to show you how to grow your business, to make it more profitable, to make life less stressful and more enjoyable for youl.
If you become a client of this firm, you will learn many things that will assist your business to perform better. This better performance will assist to increase the value of your business, providing greater security for your retirement.
In addition, because you will be taught to work "On" rather than "In" your business, you are likely to have more time to yourself, reducing stress levels and leading to an improved lifestyle.
Some of the things you will learn are:-

Not only will you discover these truths, you will be given practical ways in which to apply your knowledge. Further, depending on which programme you enrol in, you will be provided with ongoing mentoring support, free of additional charge, to ensure the success of your programmes.